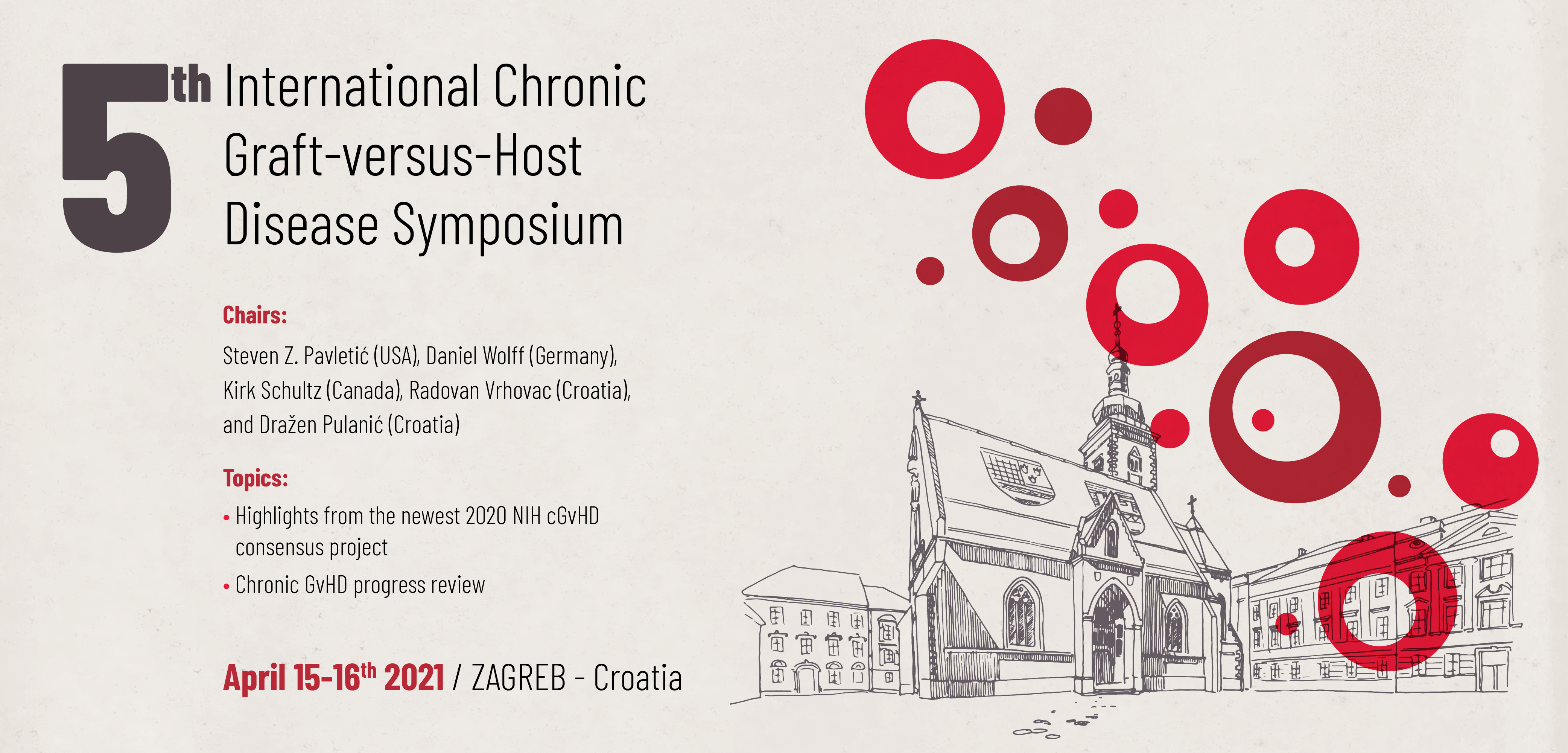 5th International Chronic GvHD Symposium
Zagreb, Croatia, April 15-16th 2021
Virtual congress

---
GENERAL INFORMATION
---
ONLINE SUPORT
ONLINE  suport will open an hour before the beginning of the sessions and close after the sessions.
OFFICIAL LANGUAGES
Official languages is English. Simultaneous translation will not be provided.
CERTIFICATE OF ATTENDANCE
Certificates of attendance will be issued to all congress participants in accordance with the rules of professional chambers.
WELCOME LETTER 
Dear friends and colleagues,
It is our great pleasure to invite you to the 5th International Chronic Graft-versus-Host Disease Symposium that will be organized in Zagreb, Croatia, from April 15-16th, 2021. Depending on COVID-19 epidemiology situation, the symposium will be organized mostly or completely as a virtual meeting.
Approximately 50% of transplanted patients will develop chronic graft-versus-host disease (cGvHD) which can last for many years causing severe medical, social and quality of life problems. However, more than ever before, the tools are at our hands to address cGvHD conclusively and improve outcomes of patients after alloHSCT. Such progress in a relatively rare and complex disease can be achieved only by the assertive interdisciplinary and multicenter international collaboration.
This 5th International cGvHD Symposium in Zagreb brings together prominent experts in the field of cGvHD from Europe, United States of America, and Canada. Symposium will be divided in several sections: 1) Highlights from the newest 2020 NIH cGvHD consensus project, 2) Chronic GvHD progress review 3) Interactive cases for Hematology Residents and young Hematologists, and 4) Future projects proposals.
The goal of the meeting is to disseminate the most current knowledge regarding cGvHD, and to provide a venue for networking and establishing contacts for our future collaborations in addressing cGvHD. This event is expected to create a critical mass of investigators and colleagues who will carry this field in the near future. It is dedicated to physicians and scientists who are engaged in management, research, and advancing care of alloHSCT patients.
It is with delight that we invite you to attend and be part of this unique advanced continuing education experience.
With warm regards,
Dražen Pulanić (Zagreb, Croatia)
Steven Z. Pavletic (Bethesda, MD, USA)
Daniel Wolff (Regensburg, Germany)
Kirk Schultz (Vancouver, Canada)
Radovan Vrhovac (Zagreb, Croatia)
---
ORGANIZERS
---
ORGANIZERS
Croatian Cooperative Group for Hematological Diseases KROHEM
ORGANIZING COMMITTEE
Dražen Pulanić (Zagreb, Croatia)
Steven Z. Pavletic (Bethesda, MD, USA)
Daniel Wolff (Regensburg, Germany)
Kirk Schultz (Vancouver, Canada)
Radovan Vrhovac (Zagreb, Croatia)
PROGRAM
SPONSORS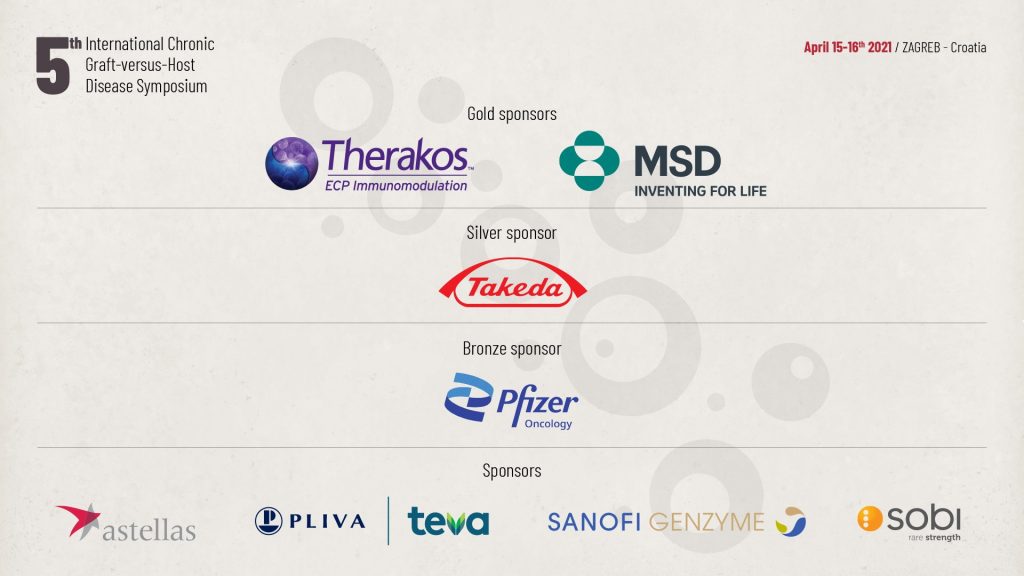 INVITED SPEAKERS
---
F. Ayuk (Germany)
A. Bergeron (France)
E. Bilić (Croatia)
B. Blazar (USA)
M. Cowden (USA)
Z. DeFilipp (USA)
L. Desnica (Croatia)
A. Dickinson (USA)
R. Duarte (Spain)
N .Duraković (Croatia)
M. Grce (Croatia)
H. Greinix (Austria)
J. Halter (Switzerland)
M.Inngjerdingen (Norway)
N.Kröger (Germany)
A. Lawitschka (Austria)
M. Mohty (France)
A. Olivieri (Italy)
S. Z. Pavletić (USA)
O. Penack (Germany)
Z. Perić (Croatia)
D. Pulanić (Croatia)
A. Rambi G. Cardones
S. Sarantopoulos (USA)
H. Schoemans (Belgium)
K. Schultz (Canada)
R. Serventi Seiwerth (Croatia)
R. Vrhovac (Croatia)
K. Williams (USA)
D. Wolff (Germany)
R. Zeiser (Germany)
REGISTRATION
| | | |
| --- | --- | --- |
| PARTICIPANTS | Registration fee | |
| 5th International Chronic GvHD Symposium virtual delegate | € 200,00 | |
| Fellow in Training (1), Student (2), Allied Health Professional (3) | € 100,00 | |
| Undergraduate students | free of charge | |
| Retired doctors | free of charge | |
VAT is included
Regular registration fee, registration fee for the members of the Societies, registration fee for other health professionals, registration fee for nurses and technicians, includes:
admission to all congress sessions by connecting to the online web platform of the Congress
pdf document with the booklet Final program
pdf document with Certificate of Atendance, and points of professional chambers
Note: Along with the application for participation, students should send a confirmation letter to the e-mail: vid.benko@btravel.pro confirming their status. The letter must be written on the faculty memorandum and addressed to the Congress agency BTravel Ltd.
CANCELLATION AND REFUND
All refund requests must be submitted in writing to the Congress agency BTravel and must be postmarked by March 15, 2021. Reimbursement of the fee less an administrative charge of 20 % and VAT will be refunded after the Congress. Cancellations received after March 15, 2021 will not be refunded.
---
ABSTRACTS</font size></font color>
---
INSTRUCTIONS FOR WRITING AND SUBMITTING ABSTRACTS</font color>
Herby we invite fellows/people in training who would like to present an oral presentation in the PART II: cGvHD Progress Review to submit an abstract for consideration by the Scientific Committee. Presentations might be regarding papers on cGvHD published since 2018 that they are authors/co-authors and also regarding new work on cGvHD topic.
The abstracts should be submitted in English. The Scientific Committee will determine whether the abstract will be accepted for an oral presentation. The presenting author is required to ensure that all co-authors are aware of the content of the abstract before submission to the Congress agency, and of all communications thereafter.
SUBMITTING ABSTRACTS</font color>

CONTACT
---
Technical organization information
Applications for participation, payment of registration fees, information for sponsors, technical organization:
Congress agency
BTravel Ltd.
Maksimirska cesta 112a, HR-10000 Zagreb, Croatia
Contact person: Vid Benko
M: +385 98 508 502
@: vid.benko@btravel.pro